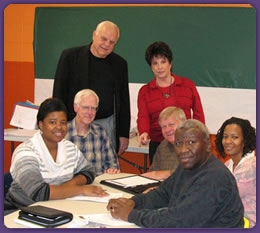 Our Company
PichaSolutions LLC has served the nonprofit community in Indiana, the Midwest and the United States since 1986. The company's two principal consultants have over 50 years of experience as successful CEOs. CJ Picha, the founder and President, has 20 years experience as a management consultant, 13 years as a successful entrepreneur/CEO and 16 years as an adjunct professor at Indiana University/Purdue University in Indianapolis.
For 23 years, Erv Picha served as President/CEO of Noble of Indiana, a large, innovative nonprofit in Indianapolis. Both he and CJ also served on numerous nonprofit boards and commissions. This combined Board/CEO experience has given CJ and Erv a comprehensive understanding of nonprofit organizational development and leadership issues. To make sure all clients benefit from this accumulated knowledge and wisdom, one of the principals directs every project.
Over many years of working with nonprofits, the Pichas developed an extensive network of resources and relationships which has proven to be invaluable. Knowing where to go, whom to talk to and how to obtain what's needed produces impressive results for clients.
Our mission, as well as our passion, is to strengthen nonprofit leadership by facilitating leadership transition, board and staff training, strategic planning, capacity building and strategic restructuring.